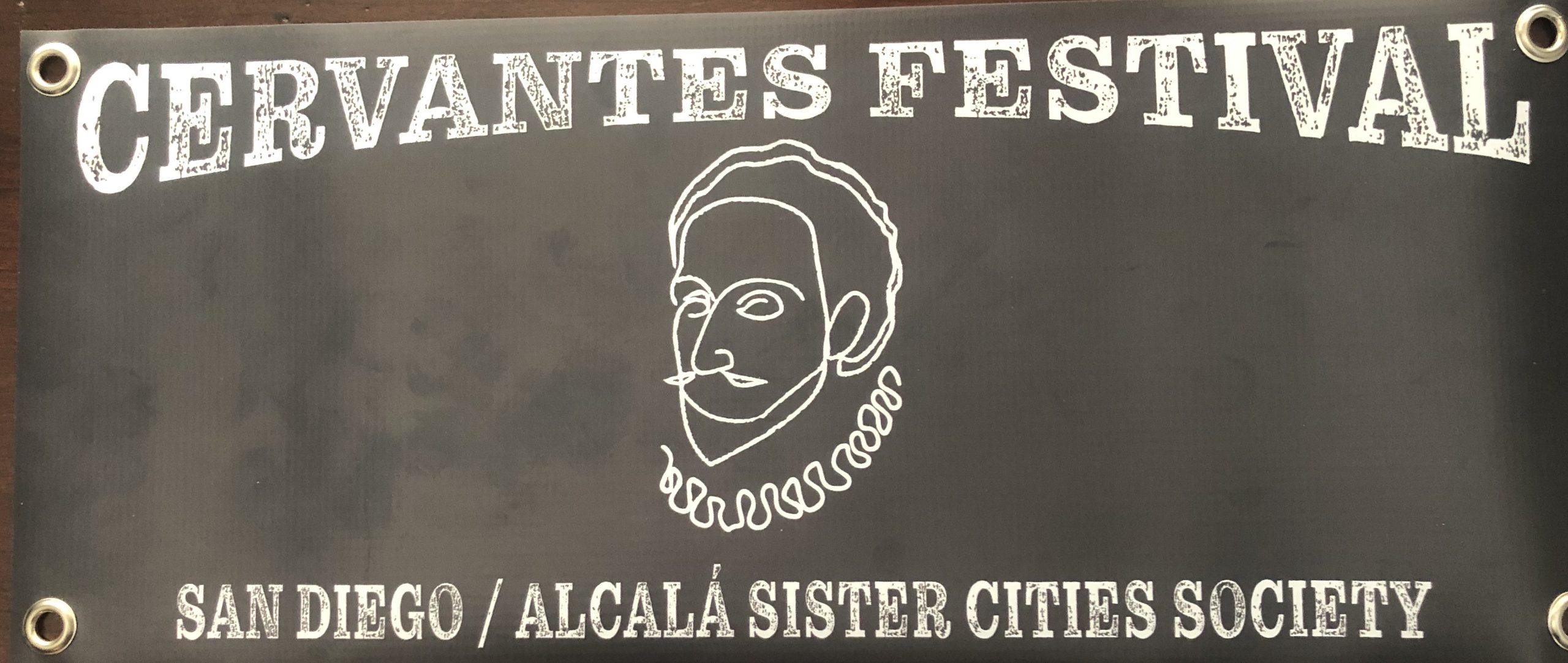 On April 23, 2022, San Diego/Alcalá Sister Cities Society organized the 9th Annual Cervantes Festival in Balboa Park. We celebrated and honored Alcalá de Henares, our sister city in Spain and birthplace of Miguel de Cervantes, by a public reading of passages from Cervantes´ immortal novel Don Quijote de la Mancha.
Thank you Rosaura Picasso, Honorary Consul of Spain in San Diego for opening the Festival and welcoming the guests and students. Another thank-you goes to Evangelina Yguerabide , vice-president of the House of Spain, for welcoming guests, students and volunteers to the Festival and for the coordination of the performance of Juanita Franco´s Academy of Spanish Dance.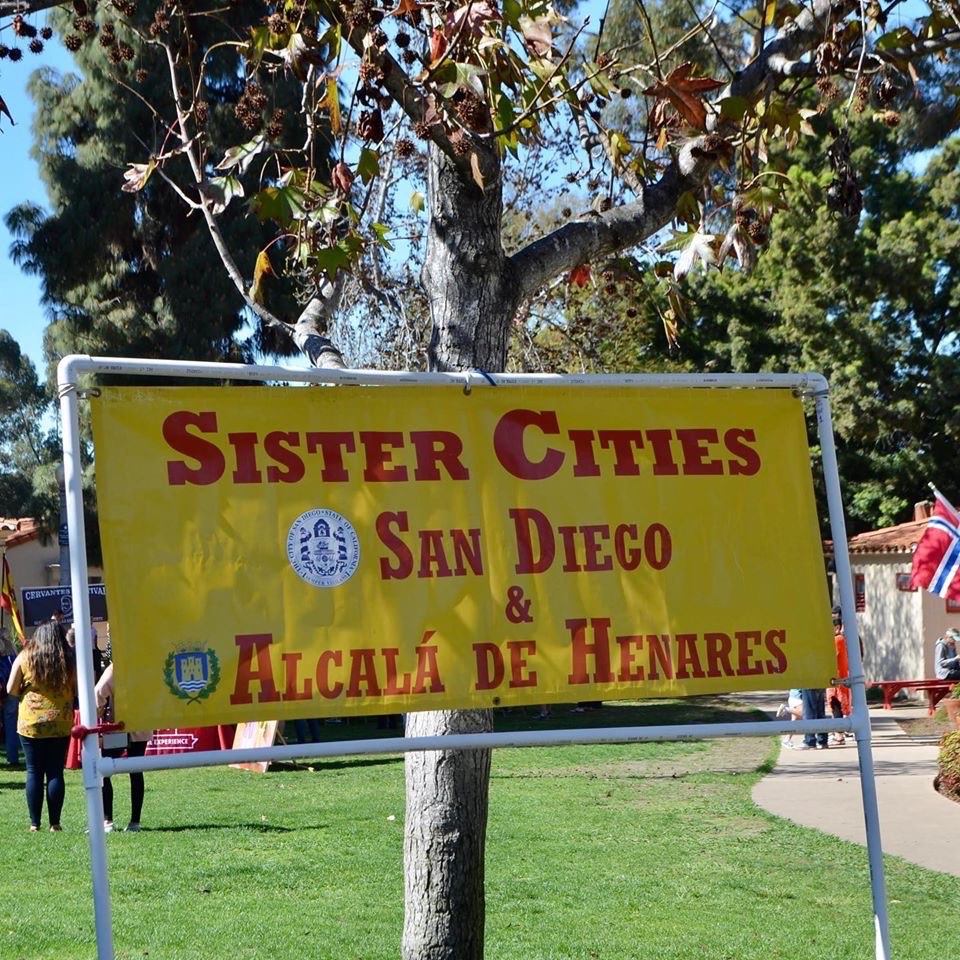 Yet another early morning thank-you goes to our friend, Oscar Romo, a student and admirer of Miguel de Cervantes.
As an accomplished and entertaining MC and DJ, Oscar helped us get the Festival off to a celebratory start with his selection of Spanish and Latin American music. We owe Oscar a big thanks for providing and attending to the sound system throughout the day.
In many schools in San Diego, students learn about Miguel de Cervantes, read selected passages with their instructors from Don Quijote, and may choose to join the public reading of Don Quijote in Balboa Park and/or to be student volunteers who work the logistics of the Festival.
This year, five schools participated as readers of the novel, artists and as volunteers in Balboa Park:El Capitan High School, The Children´s School La Jolla, Southwestern College, The Army and Navy Academy, and Point Loma High School. Thank you to the student readers and their instructors, as well as readers from the House of Mexico and House of Panama, university instructors and interested guests.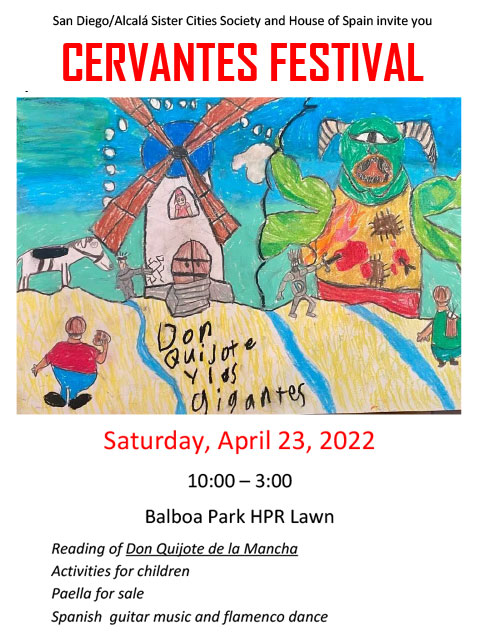 One of the most popular student activities associated with the Festival is the competition for best art for the Festival poster. The piece judged best is used as the image for the official Festival Poster and the finalists receive a cash award as well as certificates recognizing their achievement. Thank you instructors Sarah Heras (The Children´s School of La Jolla) and Jesse Huttenbrauck (El Capitan High School) for encouraging your students to participate. The art this year was amazing!
Student volunteer participation was exceptional this year as volunteers from El Capitan High School took over setting up and taking down the Festival structure. Never have we had a better group of volunteers. The volunteer effort was completely student driven and was well organized and executed. Thank you students from El Capitan High School and the student organizers, Sophia Morton and Tara Bradbury. The most amazing volunteers included not only students, but friends and colleagues who came to lend a hand.
The afternoon was punctuated by paella and flamenco art. Thank you Jesús Benayas and your paella crew of the House of Spain for the delicious paella, and thank you Juanita Franco and her Academy of Spanish Dance for the outstanding performance of the passionate flamenco dancers, with song and guitar accompaniment – amazing as always. Carlos Velasco and Kevin Moraine join us each year with rich guitar music and song. Thank you for everyone´s favorite songs from Spain and Latin America.
We are already planning next year´s Cervantes Festival, so stay tuned to San Diego/Alcala Sister Cities Society´s promotional presence on social media. It is a great family event, come for the entire day: read Don Quijote (all languages welcomed); enjoy fun activities with your children; sample San Diego´s best paella; kick back and enjoy afternoon dancing, singing and music by San Diego´s best flamenco artists. Plan to join us in the spring of 2023!